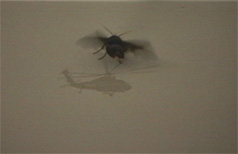 TAKE-OFF
2006, 24 minutes, color, stereo
video: Katherine Liberovskaya
music: Al Margolis (IF, BWANA)
Take-off originated with a musical work-in-progress that composer Margolis proposed to video artist Liberovskaya as a point of departure for a collaborative piece. Margolis's drone evoked for Liberovskaya a series of images which she shot and began to put together. From this point on, over some 12 months, both the music and video evolved in additions and substractions, at times in reaction to one another, at times on their own. The piece is thus the result of a back-and-forth dialogue between image and sound where flying machines flutter and flying creatures rumble in flickering bombinating juxtaposed layers.
Take-off can be, and has been, shown as a single-channel work (in a version with a title and credits) or as an installation (in an auto-looping version with no credits or titles).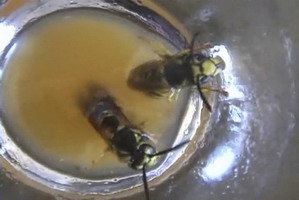 BORDERLINE FRATERNITY
2006, approx. 10 minutes, color, stereo
video & audio: Katherine Liberovskaya
Produced within the context of the Trinity Square Video, Toronto, and Videographe, Montreal, run 2005-2006 Themed Commission Program as part of a trilogy called Liberté, Egalité, Fraternité where for each of the three themes six artists were commissioned to create a new video work. In response to the theme of Fraternity, Katherine Liberovskaya recorded, over the summer of 2006, her travels across the borders of France, Italy, Austria, Hungary, Slovakia, the Czech Republic, Poland, Lithuania, Latvia, and Estonia, as well as the Canada - U.S. border. The resulting video, Boderline Fraternity, reflects on NAFTA and the European Union as symbols of political fraternity or fellowship and the conflict between national and pan-national identity in the global economy.
70 for 70 (+ 1): Seventy (One) Sides of Phill Niblock
2003-2004, 103 minutes, color, stereo
by Katherine Liberovskaya
2003-2004, video installation for one monitor or one projection, 103 minute loop
A dynamic portrait composed from fragments of seventy (+ 1) extremely close-up interventions on video about intermedia composer Phill Niblock by seventy (+ 1) people connected to him in some way. These interventions, or monologues, were collected in honor of his seventieth year (2003-2004) and the piece has been completed in time for his 71st birthday, October 2nd 2004.
With: Chris Anderson, Thomas Ankersmit, Jeff Bauer, David Behrman, Tara Bhattacharya, Maria Blondeel, Krystyna Borkowska, Jens Brand, Tom Buckner, Yu-Fei Chen, Steve Dalachinsky, Irina Danilova, Guy De Bièvre, Micheal Delia, John Duncan, Jean Dupuy, Angie Eng, Dan Evans Farkas, Esther Ferrer, David First, Bernhard Gal, Dave Geary, Madeleine Gekiere, Malcolm Goldstein, Annie Gosfield, Matt Griffin, Shelley Hirsch, Andrea Hull, Tom Johnson, Seth Josel, Tomi Keranen, Roger Kleier, Hans W. Koch, Yumi Kori, Mary Jane Leach, Okkyung Lee, Katherine Liberovskaya, Alan Licht, Chris Mann, Frankie Mann, Al Margolis, Eric Mattson, Charlie Morrow, Boris Nieslony, Morgan O'Hara, Yuko Otomo, Paul Panhuysen, Vitaly Patsyukov, Emanuel Dimas de Melo Pimenta, Matt Rogalsky, Jurgita Remeikyté, Don Ritter, Ursula Scherrer, Claudia Schmacke, Micheal Schumacher, Shelly Silver, Jim Staley, Gerd Stern, Volker Straebel, Elaine Summers, Micheal Timpson, Yasunao Tone, Jo Truman, Keiko Uenishi, Ruben Verdadeiro, David Watson, Monika Weiss, Anne Wellmer, Amnon Wolman, Dion Workman, Nina Zaretskaya.
It is worth noting that the choice of participants was a much more incidental than pre-determined process, except for the goal of reaching a total of seventy. Each was invited to briefly say anything they wanted to, or to express themselves in any way they like, about Niblock -- within the constraints of a very tight shot of their face. The result is an intimate collage of meditations, reminiscences, anecdotes, stories, impressions, feelings... from seventy one different angles: seventy (one) sides of Phill Niblock.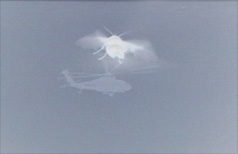 EPHEMERIS - Video Journal 1995
1996, 26 min., color + b & w, stereo
video: Katherine Liberovskaya
original soundtrack: Slava Egorov
EPHEMERIS is a video journal that covers the year 1995, from January to December. This contemplative work closely follows the seasonal changes of the North American wilderness.
"A journal of those little things, of months, of seasons, of changes, of those fleeting moments, elusive, that disappear in the instant of becoming, that make up the year."