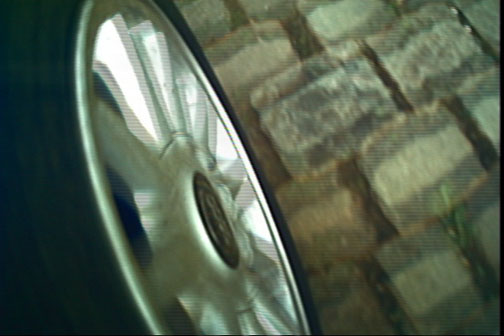 FOUR-WHEEL DRIVE
2007 - video-audio installation for:
- 4 DVD players
- 4 data projectors
- 1 CD player
- 4 high quality speakers and an amplifier for the sound collage on the CD
video: Katherine Liberovskaya
sound collage: Phill Niblock
"Four-Wheel Drive" is a sonic video installation piece consisting of 4 projections and a quadrophonic sound collage. It reframes visual and sonic properties of automotive technology into artistic content by way of surveillance technology. It explores the "musicality" and tactility of the movement of the wheels (tires) of a moving car on different types of road surfaces to create an immersive audio-visual experience.
The concept consists in attaching a small surveillance camera and a microphone to the body of a car, just above each of the wheels with the lens and capsule aimed towards the road, and recording the image and sound while the car is in motion. The exercise is repeated for each of the 4 wheels on a different kind of road surface (concrete, gravel, grass, cobble stone...). The resulting 4 sequences of extremely close-up views of moving wheels and roads will form 4 loops that will be projected (from DVDs) on 4 large-scale screens or surfaces in a space where it will ideally be possible to present 2 projections per wall on 2 facing walls so as to reference the configuration of the four wheels of a car.
From the recorded audio material, NY composer Phill Niblock will develop a thick, multi-layered sound collage. This immersive quadrophonic sonic environment, where the different sources of sound will interact with each other, will itself interact with the space and with the extreme close-up footage of the wheels and roads that become, by virtue of the large scale presentation, huge tactile textured abstract moving images evoking gigantic floating hyperreal color-field paintings drifting away from their association with reality.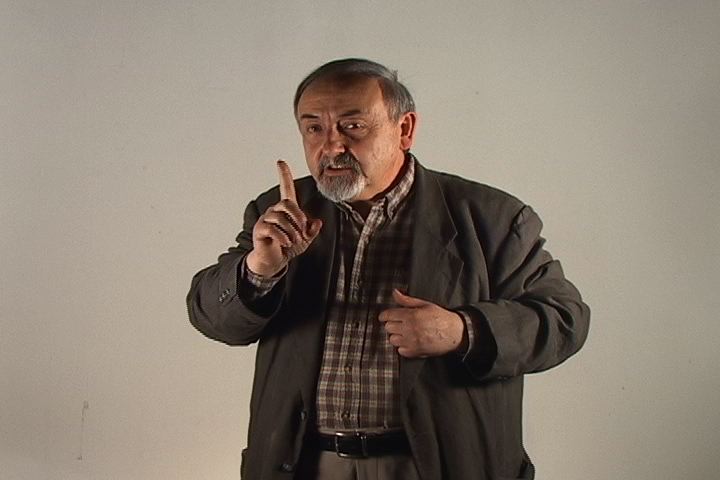 STORIES FOR THE EYES (while waiting for the tram)
2006 - video installation for 2 video monitors (2 different looping DVD videos, no sound), approx. 15 minute loop
On the one hand this project fits into a body of artistic work of the past few years based on the process of collecting large series of monologues from the most diverse people on different thematic topics. On the other hand, it was specifically inspired by the conditions of the EI v.z.w. Gent window gallery, with its impossibility to feature any sound, and by its particular physical situation. Adjacent to the Muidebrug tram stop and looking out onto the harbor of a canal leading to the North Sea in the city's historic dock area, the location has always been at the heart of comings and goings of multitudes of people with multitudes of stories to tell. All these factors contributed to the concept of 'Stories for the Eyes': a collection of monologues that tell stories without using speech. I asked over a dozen friends and acquaintances to tell stories using only facial expressions and hand and body gestures. Their only directive was that these stories be addressed to the passers-by and to the people waiting for the tram at the Muidebrug stop. My interest for these stories was not in any official sign language, but in the unique personal sign languages people who usually communicate with speech may come up with if asked to narrate a story without talking. These often obscure personal sign languages that cross cultural and racial boundaries turn the reception of the stories into a guessing-game meant to create an active relationship between the gallery and the street: stories for the eyes... while waiting for the tram...
With the participation of: Carlos Andrade, Sükran Aziz, Martine Crispo, Eric Dunlap, Shelley Hirsch, Miwa Koizumi, Koosil-ja, Al Margolis, Kenard Meyers, Charlie Morrow, Ursula Scherrer, Sami van Ingen, Elsa Viera, Fuat Yalim
70 for 70 (+ 1): Seventy (One) Sides of Phill Niblock
2003-2004, video installation for one monitor or one projection, 103 minute loop
A dynamic portrait composed from fragments of seventy (+ 1) extremely close-up interventions on video about intermedia composer Phill Niblock by seventy (+ 1) people connected to him in some way. These interventions, or monologues, were collected in honor of his seventieth year (2003-2004) and the piece has been completed in time for his 71st birthday, October 2nd 2004.
With: Chris Anderson, Thomas Ankersmit, Jeff Bauer, David Behrman, Tara Bhattacharya, Maria Blondeel, Krystyna Borkowska, Jens Brand, Tom Buckner, Yu-Fei Chen, Steve Dalachinsky, Irina Danilova, Guy De Bièvre, Micheal Delia, John Duncan, Jean Dupuy, Angie Eng, Dan Evans Farkas, Esther Ferrer, David First, Bernhard Gal, Dave Geary, Madeleine Gekiere, Malcolm Goldstein, Annie Gosfield, Matt Griffin, Shelley Hirsch, Andrea Hull, Tom Johnson, Seth Josel, Tomi Keranen, Roger Kleier, Hans W. Koch, Yumi Kori, Mary Jane Leach, Okkyung Lee, Katherine Liberovskaya, Alan Licht, Chris Mann, Frankie Mann, Al Margolis, Eric Mattson, Charlie Morrow, Boris Nieslony, Morgan O'Hara, Yuko Otomo, Paul Panhuysen, Vitaly Patsyukov, Emanuel Dimas de Melo Pimenta, Matt Rogalsky, Jurgita Remeikyté, Don Ritter, Ursula Scherrer, Claudia Schmacke, Micheal Schumacher, Shelly Silver, Jim Staley, Gerd Stern, Volker Straebel, Elaine Summers, Micheal Timpson, Yasunao Tone, Jo Truman, Keiko Uenishi, Ruben Verdadeiro, David Watson, Monika Weiss, Anne Wellmer, Amnon Wolman, Dion Workman, Nina Zaretskaya.
It is worth noting that the choice of participants was a much more incidental than pre-determined process, except for the goal of reaching a total of seventy. Each was invited to briefly say anything they wanted to, or to express themselves in any way they like, about Niblock -- within the constraints of a very tight shot of their face. The result is an intimate collage of meditations, reminiscences, anecdotes, stories, impressions, feelings... from seventy one different angles: seventy (one) sides of Phill Niblock.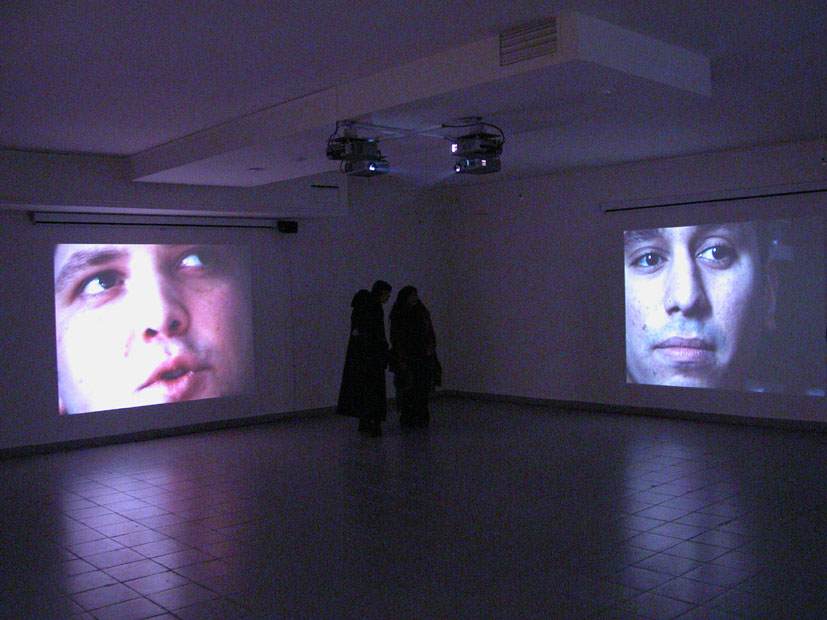 BABEL-ON
2002-2003 - 5 channel video-audio installation/performance
- sync-sound video: Katherine Liberovskaya
- sound piece: Phill Niblock
Inspired by the biblical tale of the Tower of Babel and the Confusion of Tongues, BABEL-ON is a sound-based audio-video work-in-progress exploring the melodic and rhythmical dimensions of human spoken languages as musical instruments of communication and concentrates on the sound of verbal expression rather than on its meaning.
The four simultaneous projections display different successions of video clips of a wide variety of very tight shots of the faces of women and men of different nationalities and/or origins speaking in their mother-tongues about the musical-rhythmical properties and idiosyncrasies of their respective languages as well as strive to remember tongue twisters or rhymes. In counterpoint to these video projections with their sync sound, concurrently plays a sound composition, derived from voices and languages, by Phill Niblock. Constructed from the actual utterances in the video footage, this thick, numerous track, composition forms an acoustic environment that interacts with the multilingual speech, at times accompanying it, at others overriding and replacing it, at still other times growing silent, thus creating a sonic conversation of sorts. BABEL-ON is meant to create a very physical, living audio-video flow of variations of associations and dissociations, of different tensions, between image and sound, speech and music, words and significations, intention and chance, a constant flux of unstable, slipping, shifting meanings and perceptions. It is an experiential piece that evokes the non-verbal possibilities of vocal communication, suggesting various relationships between diverse geo-political regions, cultural traditions and civilizations.